LCM156-E - An Economical 15.6" DCI-P3 Monitor
for Field Acquisition
​Overview >>>
Centered on a 10-bit wide gamut RGB backlight IPS panel and designed for today's film production workflow, the LCM156-E displays DCI-P3, SMPTE2020*1 and REC709 Color spaces. Included are 10 camera de-log LUTs, and 4 user LUTs, that for user convenience, are pre-loaded with film look LUTs. Waveform with Vector Scope, Zebra, False Color and Focus Assist which can be utilized with SDI, HDMI and all otherinputs. The LCM156-E is light weight and can operate for 5 hours (130Wh battery). Unmatched olor reproduction is assured by CalMan and Light Space color calibration.

To satisfy field applications, the accessories include V or AB mount battery adapters, C-stand adapter, screen protector, sun hood, rain cover, soft hooded case and water-proof case, with more accessories in design to ease your operations.
​
The LCM156-E is offered at the same low list price as its predecessor at $995! You can upgrade your existing LCM156-E to transform its functionality to be the same as the "E" series, extending the value of current investments in OSEE products.
---
​Features >>>
DCI-P3 Gamut for the Film Production
The LCM156-E supports DCI-P3, which is the standard color space used in most Ecinema projectosr. This is unique to the LCM156-E and allows you to make full use of your camera's wide gamut without clipping. The feature is particularly important in the digital film production.
your operations.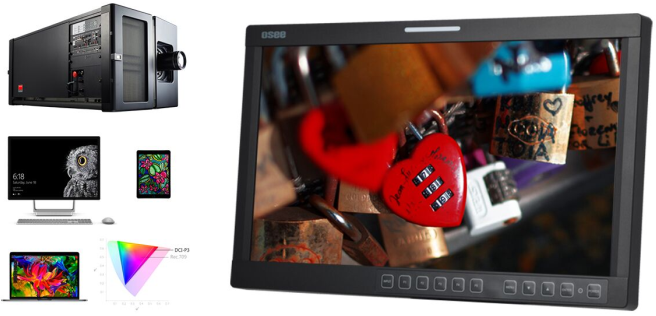 De-log LUTs for Popular Camera
The LCM156-E is integrated with 10 pre-loaded camera de-log LUTs, and can display correct video when you record and display in LOG thus avoiding the "flat" images that confuse the client.

| | |
| --- | --- |
| Image before de-log | Image after de-log |
User LUTs with Pre-loaded Film Look LUTs

The LCM156-E has 4 pre-loaded film stock LUTs for Kodak color print 2383. You can also replace them with any LUT,by using our OSEE LCD Utility Tool.

| | |
| --- | --- |
| ​Image displayed as Rec. 709 | Image displayed as Kodak 2383 |
OSEE LUT Utility Tool for OS X and Windows

The LCM156-E utility tool can run on OS X and Windows for instant access to user LUT, firmware update, color calibration plus full backup for all LUTs that have been loaded into the LCM 156-E. All luts are pre-loaded to provide ease of use.
Exposure-assisted Functions

The LCM156-E supports Zebra and False Color exposure assist tools and helps you check the exposure on dark, bright sones including skin tones of your composed scene quickly avoiding any loss of detail.

Focus Assist

The LCM156-E adopts a high precision edge-inferring algorithm to clearly indicate the primary focal point of your frame composition.
| | |
| --- | --- |
| Original Video | Focus Assist Display |
Anamorphic De-squeez

The LCM156-E can properly restore the video shot by anamorphic lens. It can work with a camera without internal anamorphic de-squeeze to support 1.3x and 2x anamorphic lens.

| | | | | |
| --- | --- | --- | --- | --- |
| ​X2 Anamorphic Lens | ​X2 Anamorphic De-squeeze | ​X2 Mag Anamorphic De-squeeze | X1.3 Anamorphic Lens | X1.3 Anamorphic De-squeeze |
Waveform and Vector Scope

The LCM156-E can display waveform and vector scope on signals of SDI, HDMI, analog component and composite to provide convenience to analyze the input signal.

Marker

The LCM156-E supports Aspect, Safe, and Crosshatch Marker. These markers can facilitate framing your video.

Audio Meter

The LCM156-E can display up to 16-Ch of SDI embedded audio including level values and over/under preset references.

Time Code

The LCM156-E can display SDI embedded time code.

Accessories

The LCM156-E provides a wide span of accessories to meet the needs of different applications.

High Precision Color Processor inside LCM156-E
The key to highly accurate color reproductions of the LCM156-E, is use of our high speed 333cube LUT processor. It is nearly 8 times more accurate than the lattice points rendered by a 173cube LUT processor.
​
The LCM156-E also adopts triangular pyramid interpolation with 14 bit precision to reproduce color, and tonal accuracy with the highest precision in the industry.

Our 3D-LUT process is applied to all Standards color gamut calibration for the LCD panel plus camera De-log conversion and user LUTs, often used to create a film stock look. This degree of 3D color cube accuracy ensures the LCM 156-E can fully meet needs of any custom LUTs that are requested by film DPs.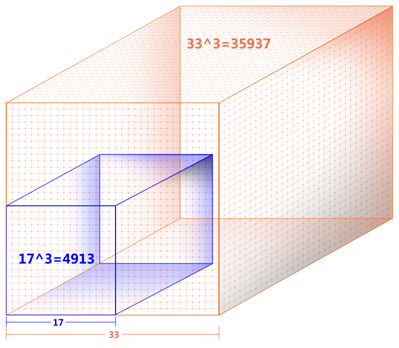 ---
​Specifications >>>
Model: LCM156-E
Size Diagonal: 15.6"
Dimension(WxHxD): 380.7x240x70.5mm
Pixel Pitch (WxH): 0.179×0.179mm
Aspect Ratio: 16:9
Display Area (WxH): 344.16×193.59mm
Viewing Angle (HxV): 178°x178°
Color Depth: 1.073G colors
Resolution: 1920×1080
Contrast: 700:1(Typ.)
Luminance (cd/㎡): 300
Response Time (ms): 15
Backlight: RGB LED
Backlight Life(Hrs): 15000
Work Temperature: 0°C~50°C
Power Supply: 5A12V DC
Power Consumption: 40W

​Video Input Interface: CVBS(X2), S-Video, YPbPr, HDMI(DVI-D), 3G/HD-SDI(X2)

Video Output Interface: CVBS(X2), S-Video, YPbPr, 3G/HD-SDI(X2)

Audio Input Interface: 2CH Analog Stereo, 5dBu, Impedance≥47K, RCA(X4)

Audio Output Interface: 1CH Analog Stereo, 5dBu, Impedance≤500Ω, RCA(X2)

GPI(6GPI Input RJ45)X1

Control Interface

: RS485(cascade RJ45) X2

Ethernet(10/100M adaptive RJ45) X1

​

CVBS: PAL, NTSC

Signal Formats:

HD-SDI: 1080i50, 1080i 59.94, 1080i 60, 720p50, 720p 59.94, 720p 60, 1035i59.94, 1035i 60

3G-SDI: 1080p50, 1080p60
​CVBS Input/Output
Signal Type: NTSC, PAL
Signal Amplitude: 1Vp-p+/-3dB
Impedance: 75Ω
Return Loss: >40 dB to 5 MHz
DC Offset: 0V±0.05 V
Frequency Response: ±0.2 dB to 5 MHz
Differential Gain: <1%
Differential Phase: <1.5°

​3G-SDI /HD-SDI Input/Output
Signal Type: SMPTE 424M, SMPTE 292M, SMPTE 297M
Connector: BNC per IEC 169-8
Impedance: 75Ω
Return Loss: >15 dB 270 MHz to 1.5 GHz
>10 dB up to 3 GHz
Maximum Signal Level: 800 mV pk-pk 10%
Signal Amplitude: 800 mV pk-pk 10%
DC Offset: 0 V ±0.5 V
Overshoot: <10%
Jitter: <0.2 UI
Rise/Fall Time: <270 ps for 1.5 Gb/s HD
<135 ps for 3 Gb/s HD
Extinction Ratio: >8
Back Reflection: <-14 dB
​*The unit about the appearance attributes in above table is mm.